"A Midsummer Night's Dreamliner,
or Shakespeare Saves the 787"
Biography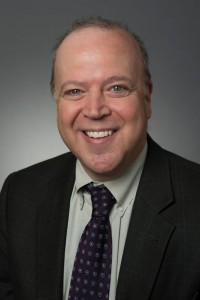 Rick Davis joined George Mason University in 1991 as Artistic Director of Theater of the First Amendment (TFA) and a member of the theater faculty.  Under his leadership, TFA (a professional, Actor's Equity company) produced dozens of world premiere productions, many of which have gone on to further production, publication, and broadcast. The company, which presented its final programs in 2012, was nominated for 38 Helen Hayes Awards, winning twelve.
From 2000-2007 Rick also served as Associate Dean of Mason's College of Visual and Performing Arts and Artistic Director of the Center for the Arts, Mason's 2,000-seat home for opera, symphony, dance, and world music.
In 2007 he was named Associate Provost for Undergraduate Education, working on issues such as General and Liberal Education and international initiatives including the launch of Mason's innovative Center for International Student Access.  With the Office of Institutional Assessment, he helped create new protocols for assessment of general education, winning the Association of General and Liberal Studies "Exemplary Program Award" for 2011.  He was a guest blogger for the Association of American Colleges and Universities.  In September 2011, he was the featured speaker in an Inside Higher Ed webinar, "Selling Liberal Education to Students and Parents."  He served as Associate Provost until January, 2012.
As Executive Director of Mason's new Hylton Performing Arts Center since August, 2011, he oversees a state of the art venue with multiple performance and exhibition spaces. The Hylton Center presents national and international touring artists and is home to several resident arts organizations.
Rick has directed a broad range of theater and opera productions, most recently the critically acclaimed world premiere of Can't Scare Me, the Story of Mother Jones for TFA at Washington, DC's Atlas Performing Arts Center. He has also directed in venues such as Center Stage in Baltimore, where he worked for six seasons, the Kennedy Center, American Ibsen Theater and Unseam'd Shakespeare Company in Pittsburgh, Players Theatre Columbus, Delaware Theatre Company, Lake George Opera (NY), Opera Idaho, Washington, DC's IN Series, and other companies.
Rick's four books include Calderón de la Barca: Four Great Plays of the Golden Age; his co-translations of Ibsen with Brian Johnston (Ibsen: Four Major Plays, vol. I), which have been performed at leading regional theaters across the country; Ibsen in an Hour (with Brian Johnston), and Writing About Theatre (with Christopher Thaiss).  With composer Kim D. Sherman (Lawrence '76) he created an oratorio, The Songbird and the Eagle, premiered by the San Jose Chamber Orchestra, and an opera, Love's Comedy.
He has written for publications such as American Theatre, Theater, The Journal of Social History, Global Studies Review, wrote the overview of drama for The Oxford Encyclopedia of the Modern World, and contributed several entries to The Columbia Encyclopedia of Modern Drama.  He has been a speaker on Spanish Golden Age drama at scholarly conferences in Oxford, Boston, Chicago, and Washington, DC.  A winner of the George Mason Teaching Excellence Award (1997) and an Alumni Association Distinguished Faculty Member of the Year (2006), he was educated at Lawrence University (BA, '80) and the Yale School of Drama (MFA '83, DFA '03).
Presentation
The dizzying pace of change in the modern world – and the concomitant push for quantifiable results, right now –may seem to challenge the liberal arts paradigm of deliberative analysis, critical thinking, and the application of multiple perspectives to a problem.  But imagine you are the CEO (or a customer or shareholder) of Boeing, with a fleet of grounded Dreamliners, and consider the costs of sidestepping these processes.  Using this half-billion dollar debacle as a point of departure, this talk offers a glimpse of how the artist's version of the collaborative process and critical thinking function within the liberal arts, and how they might be foregrounded as part of reimagining liberal education.